Getting the Kids on the Slopes
NATURAL MOUNTAIN EXPERIENCES
Are your little ones on their feet? It's time to introduce them to the joys of skiing. Typically, children are ready to hit the slopes from around the age of 3 or 4. Yet, for those born into keen skiing families, it's not uncommon to see them starting as early as 2 or 3. At this tender age, the focus is more about getting accustomed to the gear and snowy surroundings. As eager as parents might be to share the thrill of the slopes, it's often wise to entrust the tutelage of your budding skiing stars to professional ski school instructors.
While skiing isn't a skill picked up overnight, childhood is undoubtedly the prime time to get started. Here's why introducing your child to skiing early on, especially in Sainte Foy, is a fantastic idea:
Fun-filled Learning. Engaging young skiers is a breeze when lessons are infused with fun. Think gentle descents, entertaining slaloms, and playful obstacles to master key techniques. This playful approach ensures kids progress swiftly and with confidence.
No Fear Here. Children often embrace skiing challenges without hesitation. At their age, the fear of falling and getting back up isn't daunting. This resilience often sees them outpace older beginners, astonishing many with their rapid progress.
Family Bonding on the Slopes. There's nothing quite like sharing the thrill of skiing with your children. The shared memories you'll craft are the ones that'll be fondly reminisced over during family gatherings in years to come. If carving up the slopes as a family is the dream, it's wise to get them started young.
A Homely Resort Feel. Choosing Sainte Foy Tarentaise as your child's skiing playground offers a tranquil and secure learning environment, free from the bustling crowds of larger resorts. Its cosy, intimate setting is perfect for young ones to learn at their own pace.
Complimentary Passes for the Tiniest Skiers. At Sainte Foy Tarentaise, ski passes for little ones under 8 come free of charge. It's the perfect incentive for parents to introduce their children to skiing without breaking the bank.
A Resort Built for Learning. Recognising the sheer delight that comes with these moments of discovery, Sainte Foy Tarentaise ski resort has gone the extra mile. It offers a variety of facilities tailored for the little ones: from the enchanting snow garden with free conveyor belts, the playful Nuts & Foxy track, to the Natur'Protect missions, and beyond.
Heading to the Snow Garden
Every champion skier's journey begins at the snow garden. This is where future talents first feel the thrill of the slide, in a safe, dedicated space set apart from the busy tracks. Located at the base of the slopes, children can take advantage of the free magic carpet to practise their moves until they get them just right.
First Runs on Blue Slopes
Having nailed the snowplow and those initial turns on mellow slopes, youngsters are primed to take on richer terrains and aim for parallel skiing. It's astonishing how swiftly these young learners gain poise, soon ready to accompany you down the blue runs. Just remember to match your skiing agenda with their stamina and evolving skills.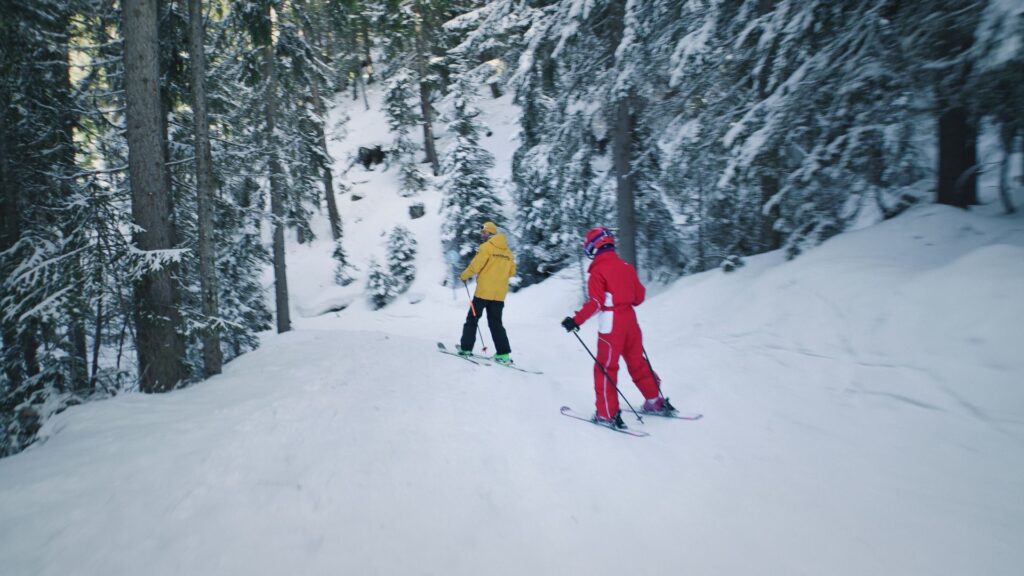 Even for adept skiers wanting to coach their children, there's undeniable value in a professional touch.
The ski instructors at Sainte Foy possess the knack to both intrigue and instruct, finding the perfect balance to shepherd the young ones through their first encounters on skis, finding just the right words to guide them through their first forays into skiing.
While ski schools offer private lessons for that exclusive touch, providing undivided attention and tailored advice, group lessons have their own charm and advantages. In such sessions, children of similar skill levels come together, ensuring they not only learn but also form bonds with fellow skiing buddies, friendships they're likely to cherish and rekindle with each snowy holiday.
Stay All Set

Great Ski You'll Get
A mountain of benefits: buy your pass online
Do you enjoy skiing alone, with family or friends? Do you want to make the most of a day, a weekend or a week's holiday? Because we all have different desires, the Sainte Foy ski area has come up with the perfect passes to meet everyone's needs.
To get off to a flying start on the slopes of Sainte Foy, without waiting at the ticket offices of the ski lifts, buy and top up your ski passes online.
NATURAL

MOUNTAIN


EXPERIENCES
Whether you're chasing vistas, thrills, or just sheer fun, Sainte Foy Tarentaise ski resort is a treasure trove of unparalleled experiences, all nestled within an untouched mountainous haven, promising pure elation for families and friends.
From the sheer joy of mastering skiing to being awestruck by the vast expanses of the alpine wilderness, or seeking adrenaline on Sainte Foy's iconic backcountry slopes – the resort spoils visitors with a rich array of snowy escapades.
With a buffet of experiences awaiting, here's a nudge to help you shape your days. The stage is yours; stitch together the perfect mountain narrative with moments that truly stir your soul.