It's not just about momentum, speed, or technicality. There is this precious moment when the skier becomes a dancer, where every turn and every dive into the powder snow is a ballet movement orchestrated by the skier's soul. This passion, shared by enthusiasts from all over, to immerse themselves in the snowy paradise of Sainte Foy, is infectious. In this sanctuary where legends come to life, every slope tells a story, and every off-piste run becomes a chapter to write. In Sainte Foy, you don't just ski, you resonate.
The Mecca of

Off-Piste Skiing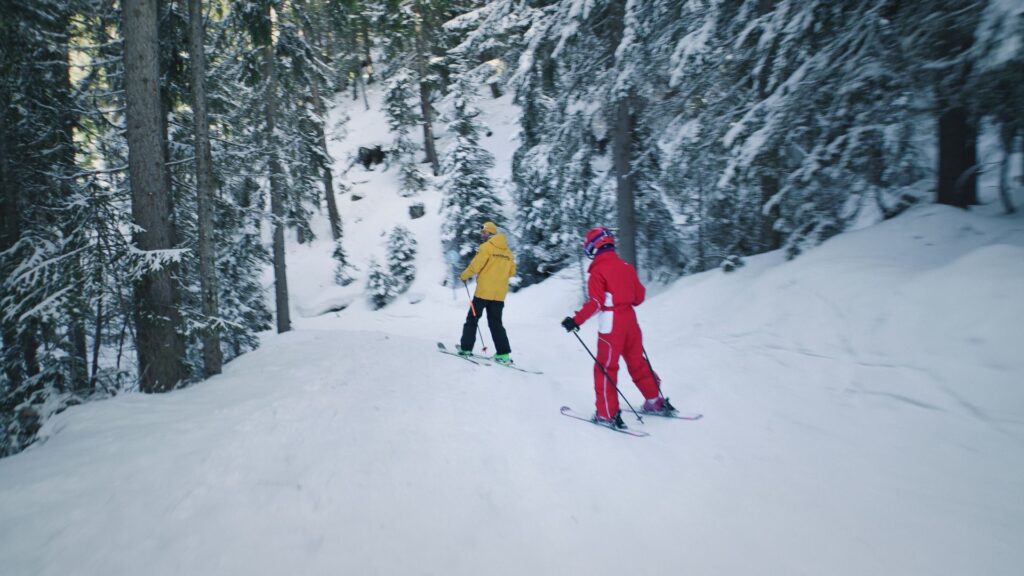 At the heart of Sainte Foy, the promise of adventure extends far beyond the mere boundaries of marked trails. This is where the Natural Ski philosophy truly unfolds, evoking wild freedom and unparalleled audacity.
The Natur'Riding zones, for instance, beckon skiers to an authentic experience, right in the heart of nature. Runs such as Natur'Crystal Dark or Natur'Morion are crafted for those skiers thirsting for challenge and adventure.
But it's within Sainte Foy's legendary off-piste routes that the true treasure lies. The north face of Foglietta, for example, offers a breathtaking descent, where every turn unveils a panorama that leaves you awestruck.
The Vallon du Clou is an ode to alpine magic. As skiers glide down its slopes, they pass through the namesake Hameau du Clou, an authentic mountain hamlet where the air is thick with history and the quintessential Savoyard ambiance. It's more than just a downhill run; it's a journey back in time and a deep dive into mountain culture.
Each Saturday, the peaks of Sainte Foy Tarentaise roll out a special offer for ski enthusiasts: the "Samedi Chausse Tes Skis" pass. At a unique rate of 26€ for all – children, adults, and seniors – this offer promises an unforgettable day on the slopes.
Why is this the perfect deal for seasoned skiers, especially those residing nearby?
Unbeatable Price: For a full day of skiing, enjoy a unique rate of 26€. The mountain has never been so affordable.
Convenience and Proximity: Whether you hail from Bourg Saint Maurice, Séez, Moutiers, Chambéry, Grenoble, Annecy, or even Lyon, the snow-covered slopes of Sainte Foy Tarentaise beckon you for a one-day getaway.
Finish the Week in Style: After a challenging work week, what's better than granting oneself a day away from the daily grind? Escape, rejuvenate, and rediscover freedom in the crisp mountain air.
Come Back Every Saturday: At this price point, the temptation to return week after week will be hard to resist. Every Saturday presents a new opportunity to explore and face new challenges on the slopes.
For the seasoned skiers of the valley and surrounding areas, the "Samedi Chausse Tes Skis" pass is more than just a deal. It's a tradition waiting to be embraced, a ticket to an exceptional experience, week in and week out.
Sainte Foy is the adrenaline epicenter for ski enthusiasts craving intense sensations. Every descent promises emotion, challenge, and exhilaration.
Arpettaz Slalom Stadium: More than just a run, it's a personal challenge. With every gate passed, a duel with oneself emerges, blending a quest for precision and speed with the sheer beauty of exertion.
Boardercross: Here, the terrain transforms into a playful arena. The bends beckon mastery, the jumps call for bold flights, and the rolling waves seem to taunt gravity itself. It's a rhythmic adventure where every meter covered is a celebration of the sport.
"The Big Boss" Mogul Wall: This isn't merely a ski run; it's an arena of endurance and determination. Each bump and turn tests one's strength and resilience. It's not just about technique, but also about power and perseverance. This demanding terrain is where skiers come not only to measure up but to tap into their energy reserves, surpass themselves, and push their physical limits to the edge.